Georgia Wins Again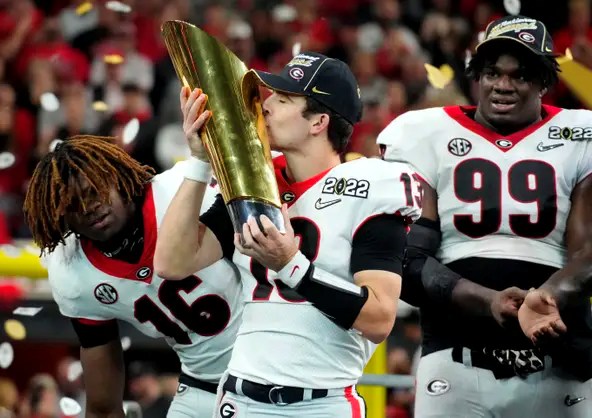 On January 4th at 4:30pm, the Georgia Bulldogs faced TCU Horned Frogs in the College National Championship. This was a very big game because Georgia could go back to back. The game was also held at a new 5 billion dollar stadium called SoFi Stadium in California. Georgia has been ranked #1 for the last few years and has proven to be the best team game after game. Georgia is unstoppable. It was very nice to see another team get to the championship besides the usual teams who make it to that game. TCU didn't have a good chance to actually beat Georgia, but they tried and as you could see, that didn't end well.
Georgia kept gaining points every few minutes. In the first quarter it was 10-0 Georgia, then TCU scored to get something on the board. After that TCU touchdown it was pretty much game over. TCU was continuously having turnovers and Georgia was scoring every few minutes. This game was honestly pathetic in the fact that TCU got absolutely destroyed. The final score was 65-7 Georgia, with Georgia having a record of 15-0 after that game. While I was watching the game I just had to laugh since TCU was really trying and whatever they were doing just wasn't working. Mid game a few Georgia players went over to the sidelines to ask people to get them some chicken wings since at that point they knew they were champions. I also heard that since Georgia was favored, at the stadium there was a very small section for TCU fan gear while the rest of the area was filled with Georgia clothing. 
I hope next year the College National Championship is way more exciting than last years. Maybe next year we will see a different flow of teams in the playoffs and the championship since every year it's either Alabama, Ohio State, Georgia and a few others. It might be different this year since a lot of college football players are declaring for the NFL draft including Heisman trophy winner Bryce Young. Congratulations to the Georgia Bulldogs but Alabama is coming back this year for the title.