East Rockaway's CANstruction Win!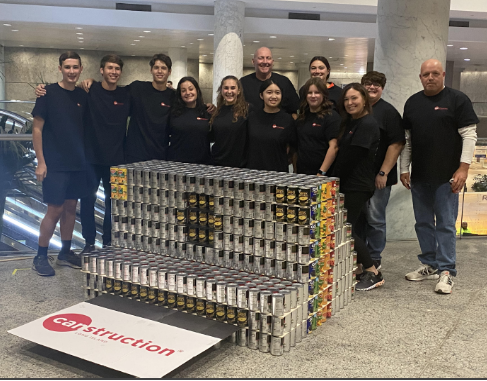 Each and every year, teams all across Long Island participate in the annual CANstruction competition. CANstruction is a nonprofit organization that provides canned food to food banks around Long Island. Their goal is to join in the fight against world hunger. For the past 5 years, students and faculty from East Rockaway High School have come together to form our East Rockaway CANstruction team. 
This year, our CANstruction team built a polaroid camera using donated cans. Their title was "PICTURE a World Without Hunger ". The team worked hard to put together the structure in multiple practice builds and ultimately at the RXR Plaza. The structure consisted of 1,678 cans, the different colors and labels were used to make the authentic Polaroid camera. In the end, their effort and contribution to this project is what makes it such a special tradition at East Rockaway High School. 
"Creating a world in which no one goes hungry must begin by first picturing a world without hunger, and what better way to symbolize this idea than with the iconic Polaroid camera? Just as pictures can have a lasting and memorable impact on viewers, we hope our structure will do the same. And, we hope it will serve as a reminder that if we CAN picture a world free from hunger, we CAN accomplish it. In choosing our canned food selections, we kept nutrition our primary goal all while making label choices with design in mind. The label color for the body of the camera is silver/gray, representing a typical Polaroid camera. Our choices of secondary colors – red, orange, yellow, blue, and green – are meant to represent the classic Polaroid rainbow stripe, and our darkest can color is a stand-in for the lens as our lightest can color is for the flash.