Why I Chose Tufts!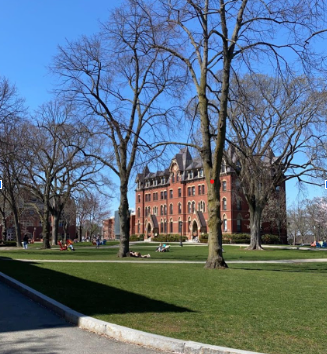 As my Senior year comes to a close, I've been reflecting back. The past few months have marked an end to many journeys that I've embarked on throughout my years at East Rockaway – some being the school musicals and Rock Rivalry. It was also an end to the college application process – one that went by quickly, yet felt like it lasted an eternity. Since I was a Freshman, I've watched countless college decision reactions, dorm tours, and "A Day in the Life of a _____ Student" videos, all in the hopes that I would find myself in that position a couple years down the road. Now that I'm there, I wish I could go back and tell myself to worry less because the natural dedication I had during those years was enough. Though I had a rocky start with my Common App essay back in October, I could not be more grateful to have had this experience. Yes, I complained about it every single second, but I was able to reach crevices of my mind and discover aspects of me that I hadn't realized existed beforehand.
After receiving all of my decisions, I had made the choice to attend Tufts University in Medford, Massachusetts! Finally clicking that deposit button two days before decision day was an extremely relieving and rewarding moment. Though the decision was not easy to make, I wanted to write an article regarding why I chose Tufts! 
Note: I will not be mentioning the other universities I was considering!! They were all extremely spectacular in their own regards! But if you are truly curious, you can come find me and I can answer any questions!
Astrophysics Program: From the start I was hoping to enroll at a university where astrophysics was offered as a degree, and not just a class. For those who don't know, astrophysics is a branch of science that focuses on the astronomical aspects of our universe through a physical, mathematical, and even chemical perspective. Some of the other colleges I had been accepted to had similar majors in which the same concepts are applied, but its focus wasn't centralized around astronomy. To be realistic, astrophysics is quite the specific major, so there are definitely a decent amount of universities who don't offer it! Tufts also has great connections to observational facilities, such as the famous Hubble and the James Webb Telescope as well, along w​​ith passionate professors who love to do research with students (especially in graduate school)! I'm excited for the ability to interact with them and learn about their discoveries!
Size: Tufts' undergraduate student population is around 6,000. Back in September, I had no preference for class size, but as decision day came, it turned out to be a significant factor for me! Being someone who has grown up in East Rockaway my whole life, I've grown to love the tight-knit community there is and how everyone is familiar with one another. In terms of academics, I appreciate small class sizes and find it better to maintain connections with teachers that way! Tufts' undergraduate community is more on the smaller scale of undergraduate class sizes, which I grew to appreciate.
Distance from Home: I have always planned to go away for college, but I wasn't sure to what extent I was looking for. From a two hour drive to a six hour flight, I wasn't sure what was the right choice for my family and me (finances was also an important variable in this decision process as well)!! Tufts is a three and a half hour drive away from my home and I found that that driving distance was the most convenient for us. Back in April, my dad and I drove up to Tufts for admitted students day and were able to spend around twelve hours in Boston, and drive back the very same day. It's no quick and easy drive, but I still felt that this was the right decision for me. As someone who wishes to come back home for specific events while I'm away, I figured that this distance would be how I can do it best.
Campus Feel! Okay, so I feel like this might be cheesy, but once I was on the Tufts campus I got "that feeling". It was one where I truly felt that Tufts was the place I belong, and where I could see myself thrive. I knew I would be content at each option I was given, but it wasn't until I was at the physical campus when I believed that Tufts was it. Other than the weather being absolutely beautiful, the campus landscape was more vibrant than any photo could exhibit. Places like the Tisch Library (and how events are held on its roof) and President's Lawn showed me how students interact on campus and how it's always buzzing. The surrounding areas such as Davis Square drew me in as well (rows of restaurants and shops)! The tendency to ignore the "vibes" of a university was present while I was deciding, so for those upcoming seniors next year, try to visit schools!!!
Proximity to Boston: Tufts, as mentioned, is in Medford, Massachusetts. Despite it being on the outskirts of Boston, it is still accessible to head there in a short amount of time! There is actually a new stop on MBTA's green line (their train) which will be located in between two of Tufts' buildings, Dowling Hall and the Joyce Cummings Center. My original hopes were to attend a college located in a city, but having this easy way to get to Boston was good enough for me!
I can never fully express how fortunate I am to be attending Tufts University this fall. Though it seems like a dream, I learned to acknowledge that it really is the accumulation of my hard work throughout high school!!