Senior Spotlight: Theresa Lynch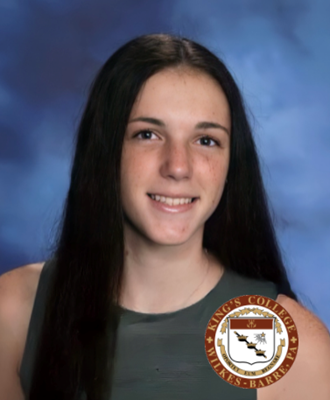 Meet Theresa Lynch, a member of the Class of 2022. Theresa has been very involved at ERHS during her high school career. She has been a key player on the Girl's Softball team, Basketball team, and the captain of the Volleyball team. In addition to sports, Theresa has also prioritized her academics. She is a scholar-athlete, a member of the National Honor Society, and has taken multiple AP classes. She has also been involved in Tri-M, Jazz Band, and Cultural Leadership club. 
Theresa has answered a few questions about her high school career and post-graduation plans. 
What is your "senior quote"? 
 "You are braver than you believe, stronger than you seem, and smarter than you think."- Winnie the Pooh.
What has been your favorite class?
"My unified PE class or anything that isn't AP Calc."
What are your plans for the future?
"I'm going to Kings College in Wilkes-Barre, Pennsylvania, playing volleyball, majoring in psychology."
During your time at ERHS, who has positively impacted your life?
 "All my teachers impacted my life, and my friends and family have definitely been a great support system for me throughout the years. My coaches have really pushed me to do the best I can, so I'm really thankful for all of them."
What advice do you have for next year's seniors?
What will you miss most about ERHS?
"I will definitely miss the teachers, friends, teammates, and coaches. Not AP Calc."
Thank you for giving us some insight into your experiences as a senior, Theresa! The Gull is so excited to be spotlighting seniors; stay tuned for more!