Remembering Bob Saget and his Full House Days: 1956-2022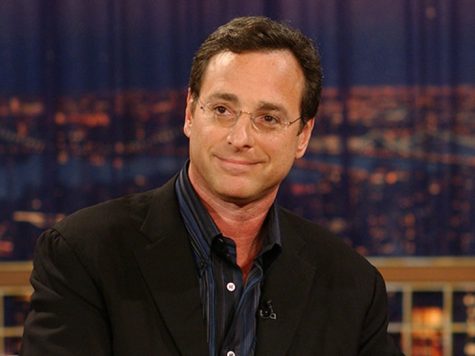 On January 9th, 2022, we had to say goodbye to America's favorite dad, Bob Saget. At just 65 years, American stand-up comedian, most famously known for his role as Danny Tanner on the hit series Full House, passed away in Orlando, Florida after performing what was his last show the previous evening. Tributes and grief poured in from all across the world from fans, celebrities and close friends who had been in the industry with him for decades.
One of these meaningful and heartfelt tributes came from Full House co-star, John Stamos, who acted alongside Saget for nearly eight years, playing the role of Danny Tanner's brother-in-law. On the Tuesday following the news of Saget's passing, Stamos posted his grief to Instagram writing: "I'm not ready to accept that he's gone – I'm not going to say goodbye yet. I'm going to imagine him out there, still on the road, doing what he loves with all his heart and humor… I know in my heart he's smiling, still hearing the laughter from just a few hours before. I'm just not ready to say goodbye yet. Maybe tomorrow. Maybe."
Countless tributes continued to be posted to various social media sites, with more from other Full House co-stars such as Jodie Sweetin (Stephanie Tanner), Candace Cameron Bure (DJ Tanner), and Andrea Barber (Kimmy Gibler).
While we may not have been prepared to say goodbye to this genuine and greatly adored comedian, actor, and television host, we can keep his memory alive by reflecting on some of his most memorable moments on Full House.
Below are the top five episodes I think are worth watching to keep Bob Saget's memory alive. That is, of course, if you opt not to rewatch the entire series.
Season 1, Episode 11: "The Big Three-O"
Danny Tanner's 30th birthday ends up being a day full of chaos. Uncle Jesse accidentally wrecks his treasured car and the episode ends with THE car scene (from the famous show introduction.
Season 1, Episode 17: "Danny's Very First Date"
As DJ and Stephanie struggle with Danny's first date since the passing of their mom, some of Danny's best dad-moments shine after he talks about moving on after a loved one passes.
Season 3, Episode 19: "Those Better Not Be the Days"
A comical flash-forward episode depicting Danny, Jesse, and Joey in their elderly years, still dealing with the drama and attitudes from the three girls. Saget's love for the show is really seen in this episode.
Season 3: Episode 23: "Fraternity Reunion"
Returning to their old school, Danny and Joey pull a prank that lands both of them in jail. While some of the jokes in this episode may not be accepted very well in today's society, Danny Tanner dressed as a woman will easily put a smile on your face.
Season 5, Episode 22: "The Trouble with Danny"
An episode dedicated to Danny Tanner, he takes spring cleaning way too seriously and turns the family against him while encouraging his cleanliness behavior onto young Michelle. Also noted: the episode includes Danny having a heart-to-heart with a donkey.