"Junior Year Journal"
Junior year: My high school year that was completely taken over by the pandemic.
Junior year: My high school year that was completely taken over by the pandemic.
But, it was also the year I discovered my love for bubble tea, learned how to drive, and expanded my music taste beyond musicals (Olivia Rodrigo's new album一SO GOOD).
Entering school in September, I felt extremely blessed with the fact that I was lucky enough to go in person. However, the difference in schooling did not impact me until I sauntered into my 1st period APUSH class, and sat among 5 of my classmates while the remaining 11 students sat virtually at home. It finally hit me, of what kind of year this was going to lead. My first year as an upperclassman was quite the experience. From learning within the hybrid model to now, it was quite the tumultuous process to arrive where we are currently at.
Momentarily ignoring the fact the entire year was hindered by a pandemic, the 2020-2021 school year was still like no other, as waves of stress rocked my small boat in ways I never thought were possible, across an ocean called "junior year" that seemed infinite in all directions. However, though the stress had made a grand impact upon me, there were still several factors inside and outside of school that helped me get through this year. I'll be dissecting certain aspects of my junior year and giving my formal opinion and explanation about it! 
Hybrid
What made this school year stand out was the fact that it was taken over by hybrid learning. 
Those are words that will haunt me for the rest of my life. Whether you were a full live, full remote, or hybrid student, this new way of learning impacted you-either for better, worse, or even not at all! 
Personally, to put it in simple terms: I hated it. 
I can't recall my first day of being virtual, but I can assure you that I probably woke up 20 minutes before 8 A.M., in total praise of the idea of getting an hour more of sleep than before. I definitely got up and got dressed, and headed to my desk to start the day wide-awake. 
Comparing it to my last day of virtual, I would not have been able to replicate that first-day experience again. Being virtual does definitely have the benefit of waking up late, but that is literally it. Yes, I can play Just Dance while I have gym, but I'd much rather be playing badminton in person. It eventually was so difficult for me to get up and out of bed in the morning, which led me to just doing my classes while I laid in bed (not a good idea). When I didn't understand a concept that was being explained in class, I'd have the tendency to go, "I'll just figure it out tomorrow in person" and just go do something else. Being home gave me the liberty to learn as much or as little as I want, and per day it would vary. Overall, I didn't always make the best use of my time, which always had its consequences. 
On top of that, I am someone who loves dressing up and wearing fun outfits to school everyday. I do not have another outlet to showcase my outfits besides at school, so choosing an outfit has always been a significant part of my school day. However, being at school 2-3 times a week, I would methodically plan my outfits for particular days, depending on what activities I had. Let's just say, I am very glad I got back my 5 days a week to wear a different outfit each day.
APs
When I decided to put 4 AP classes in my schedule, I told myself, "I know it's going to be hard, but I know what I'm doing!!"
I, in fact, did not know what I was doing.
Having only taken AP World before, I didn't know what an AP science class or computer science class was going to be like一 and all together?? I was just hoping for the best! Alas, it was always an interminable battle of me against time and homework. The combat I engaged in with my classes always resulted in my utterly miserable defeat, which would linger until another grandiose assignment appeared, again resulting in a failure to get it done on time. From APUSH to AP Lang to AP Physics and to AP Computer Science, I was always on a time crunch, either completing assignments from other classes during a class they were not meant for, or finishing them at 2 A.M. There was no in between. 
However, I don't mean to scare anyone off, they aren't all filled with negatives!! What kept me up and motivated was the differentiation of each class. No AP class is the same, and that's what I believe made my schedule manageable throughout the day. When in classes with the right classmates and friends, it makes completing the long assignments worth it. Having a fun laugh about the "joke of the day" in physics to having serious conversations about meaningful topics in English, is what kept these classes "real" in half virtual and half physical setting. I enjoy reflecting back on those memories and wish I can relive them again.
Extracurriculars!
One of my favorite aspects of returning to school was coming back to the extracurriculars I know and love, and trying to delve deeper into ones I've hadn't been a part of before! Since I did not do much during the last half of my sophomore year, I found activities that would take up that 3-4 time slot almost everyday of the week, just to be busy again. Key Club on Wednesdays was always the reserved slot of time for coming up with new fundraisers and drives, Thursdays was for developing a start-up business plan in DECA, and Fridays belonged to The Gull and Mock Trial. Of course, seasonal activities like Rock Rivalry, NYSSMA, and soccer appeared, but seemed to have left as soon as they entered.
The Future
It finally started getting real, the idea of college. Everyone wanted to know what I want to do, where I want to go, how far I would go, what's my SAT/ACT score, who are you asking for recommendation letters… they want to know it all! It has been crazy. I am confident in saying that I currently want to pursue journalism along with something in the sciences, but who knows? I'll probably change my mind in a few days.
In terms of deciding what colleges I plan to apply to, I've been deciding based on "Day in my Life at (specific college)" YouTube videos. They are addicting. I've also been fortunate enough to visit Boston along with a few colleges up there, and there definitely is a difference between watching it on a screen versus walking along the streets of the city. If you're ever unsure about visiting colleges, I say go for it!!
I am choosing to ignore speaking on behalf of the SAT/ACT, because my journey with those standardized tests is nowhere near over (it feels like it will never be)…
Stress
As previously mentioned, stress was one thing that completely ambushed me at random points this year. From sleep deprivation to being burnt out, junior year gave firsts that hadn't taken a great toll on me in previous years. Oftentimes I would constantly stress about the long list of assignments that I had to do, which would end up with me just laying in my bed for hours or doing literally anything else to avoid it. Even though I always worried about my procrastination, it got to the point where I was so overwhelmed that my brain was telling me to just avoid all of it. 
That leads me to the biggest and best piece of advice I could ever give: It's okay to ask for help when you are struggling! It's so okay to not feel the best all the time! IT'S OKAY!!!!!!!!!
I'm happy to say that since my article about sleep back in March, my sleep schedule is getting better! With the help of some teachers, I've been able to organize my assignments in a timely manner and go to bed around 12:30 A.M. instead of 3 A.M. Still have some more progress I would like to make, but I'm happy so far. I promise that people will want to help you and listen to what you have to say. So whether it's a friend, dog, teacher, parent, sibling一find someone who you trust and ask for help when needed.
Yes, overall, I know this reflection is sporadically drawn out to several random aspects of my junior year一but that is exactly how my junior year went. It was a year filled with bursts of spontaneity, either it being assigned a last-minute role in a mock trial case or randomly deciding to take a tour around Rockville Centre as if I had never been there before. As I currently ponder back on events from 9th and 10th grade saying, "I wish I can go back" I know next year I'll be doing the same for this year.
About the Writer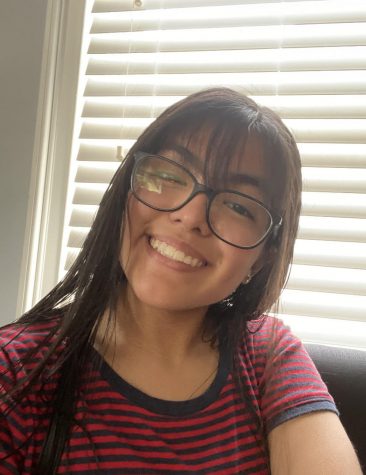 Sofia Valdebenito, Staff Writer
Meet Sofia Valdebenito, a junior at East Rockaway High School! After a three year hiatus, she decided to join The Gull once again after rediscovering her...