SkillsUSA States Competition!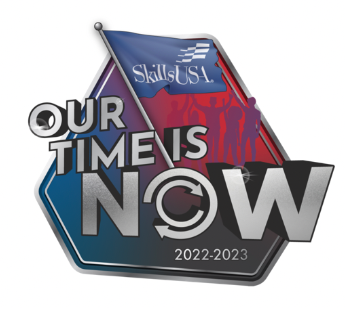 Upon entering Barry Tech, students are immediately introduced to SkillsUSA, which provides educational programs, events, and competitions that support career and technical education in the nation's classrooms. When I was a junior at Barry Tech, my class was first introduced to this by participating in two pin design competitions – one for Long Island and one for New York State. Although I did not place when I participated, this year my classmate won the Pin Design State competition at regionals. Her design got turned into a pin and a T-Shirt. She will also be competing in Nationals next month! 
While she was doing pin designs, I needed to make a promotional bulletin board about this year's motto, "Our time is now". This promotional bulletin board served as a guide to what SkillsUSA is all about. It was a team activity.  I worked with a guy in our class and a girl from the nursing program helped us with our speech. Our board needed to be constructed with only paper goods. It also couldn't exceed 32 by 40 inches. A lot of the elements we added were from SkillsUSA. The SkillsUSA State competition was held in Syracuse, NY from April 26th-28th. Classes from our school and BOCES classes from around New York state competed. Barry Tech left early Wednesday morning and arrived just in time for the opening ceremony. At this opening ceremony, the SkillsUSA officers went over the rules, what the next few days would look like, and finally the placement test. At our competition site, my team and I would needed to answer questions as a team. This test was only necessary if there was a tiebreaker. 
Thursday was the actual competition. In our building there was a plethora of other competitions happening all day.  Our competition only lasted 15 minutes, but it was still important that we needed to stay the entire time. Our speech interview was not until 1 PM. Since we arrived at 9 AM, my team and I spent the free time practicing our speech and playing Pokémon GO as well as UNO. After lunch, we finally presented our board.
Presenting our board in front of the judges was rather stressful, especially since we needed to have a 7 minute speech memorized. Luckily, the judges were very nice and they really enjoyed our presentation! After the competition, we went back to the hotel and finally was able to relax from our long day. Later that night, we enjoyed a BBQ at the competition site.
Then came Friday; the most nerve-racking day of them all – the results. For what seemed like an eternity, the officers spent all morning announcing the winners of different categories. At the end came the results for the promotional bulletin board. We did not place. Although we were disappointed, we were still proud of each other as well as the other Barry Tech members who placed.
As if the three days couldn't get any crazier, our coach bus broke down on the way home! We were stuck for 2 hours before another bus came to get us. We waited another hour for the other bus to get towed to a McDonald's parking lot so that we could finally get our luggage.  We were finally able to go home!  Since our bus had very important equipment on it, we still needed to unload the equipment off the bus at 10 pm… in the rain. 
Although it seemed like we were on that bus for an eternity, I am still very thankful for the experience and had an amazing time!