Making Herstory: Meet ERHS's First Girl's Varsity Flag Football Team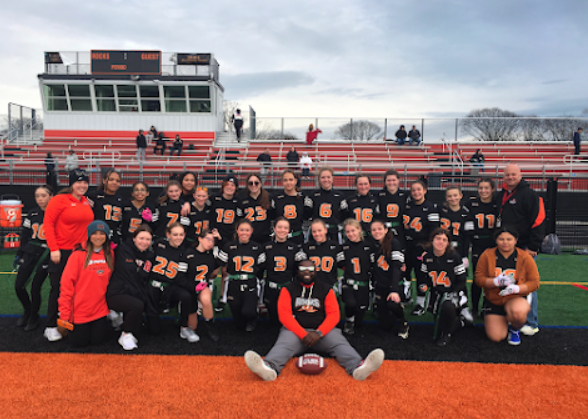 The latest spring sport's season marked the debut of the first Rock's Girl's Varsity Flag Football team. Coached by Coach Fred Cange, Coach Pajer, Coach Curran, and Coach Cordaro, the Rocks are now almost halfway through their season with a record of 2-2. 
After just one week of practices, the Lady Rocks played their first game of the season home against Roosevelt and brought home their first win. Last week, the Rocks earned their latest win against Lynbrook High School's girls flag football team on our home turf.
In a way to promote and encourage flag football programs across the nation and Long Island, NFL sports teams have sponsored high school girls flag football teams nationwide. The New York Jets have sponsored teams on Long Island, including East Rockaway, and have provided the team with the latest equipment and jerseys. Additionally, the New York Jets have invited the Rocks to face the Massapequa Chiefs at the Jets Practice Facility in Florham Park, NJ. 
Over the few weeks that the Rocks have been working together, driven to become smart at the game and all-around better athletes, they have also placed emphasis on becoming a family. They continue to grow stronger as a team and will continue to make East Rockaway history, or as the team likes to call it "HERstory". While they may be the first girls flag football team to represent the East Rockaway Rocks, they will most definitely not be the last, and we are beyond excited to watch the program grow and evolve for the years to come.