Senior Spotlight: Sophia Capone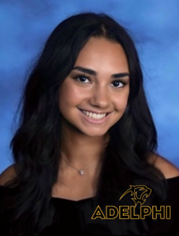 Meet Sophia Capone, a member of the Class of 2022. Sophia has been very involved at ERHS these past few years. Sophia was captain of the Varsity Cheerleading team and participated in various aspects of Rock Rivalry, including sports night, entrance, and choreography. Sophia has challenged herself by taking multiple AP and dual-enrollment classes. She is also a member of the National Honor Society. 
Sophia has answered a few questions about her high school career and post-graduation plans. 
What is your "senior quote"? 
"He who has a why to live for can bear almost any how" — Friedrich Nietzsche.
What has been your favorite class?
"My favorite class has probably been Family and Criminal Law or AP Government. We always have a good time." 
What are your plans for the future?
"I will be going to Adelphi University in the hopes of receiving my Master's in Social Work."
During your time at ERHS, who has positively impacted your life?
"Many of my teachers and peers have positively impacted my life, including Ms. Risso, Mr. Gibbons, and Mr. Canale, to name a few. They have always reminded me to never give up in the face of adversity."
What advice do you have for next year's seniors?
"Don't stress too much about where you're going; enjoy where you are now."
What will you miss most about ERHS?
"Being involved in such a close-knit and spirited community that can come together so easily!"
Thank you for giving us some insight into your experiences as a senior, Sophia!