Senior Spotlight: Adriana Calabrese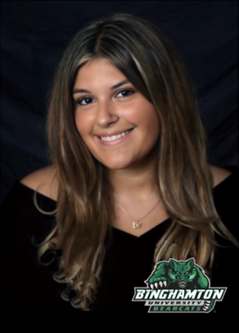 Meet Adriana Calabrese, a member of the Class of 2022. Adriana has exhibited a lot of school spirit during her time at East Rockaway High School. She has participated in various aspects of Rock Rivalry, including mural, entrance, choreography, stand, and sports night. As captain of the cheerleading team, Adriana helped organize Pep Rally and homecoming festivities. She is also the treasurer of The Gull, captain of the Badminton team, and a member of the National Honor Society. 
Adriana has answered a few questions about her high school career and post-graduation plans. 
What is your "senior quote"? 
"Unless someone like you cares a whole awful lot, nothing is going to get better. It's just not" -Dr. Seuss, The Lorax 
What has been your favorite class?
"AP Government has definitely been my favorite class. Mr. Gibbons is one of the best teachers I've ever had. We have discussions in class and have fun with it while still staying on topics; I forget I'm even learning." 
What are your plans for the future?
"I am attending Binghamton University in the fall, studying Business… So excited. GO BEARCATS!"
During your time at ERHS, who has positively impacted your life?
"During my time at ERHS, Mr. Vito has positively impacted me. He has taught me the importance of a positive perspective and mindset and that you can make anything happen if you just believe. Failure is just a mindset."
What advice do you have for next year's seniors?
What will you miss most about ERHS?
"I will miss my friends and teachers the most. They have made my years at ERHS unforgettable and will be my forever family."
Thank you for giving us some insight into your experiences as a senior, Adriana! The Gull is so excited to be spotlighting seniors; stay tuned for more!