Major League Baseball has a Problem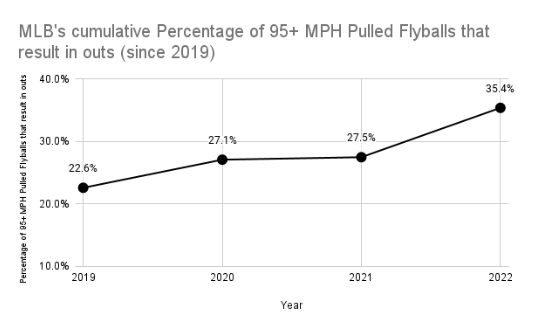 There is a huge problem going on with Major League Baseball that not everyone may realize. Offense is at a historic low and it's not because pitching is just getting better. Everyone knows about MLB juicing the baseballs in years past in an attempt to gain more viewers, especially in 2019, but now it appears they are doing the opposite. The baseballs seem to be deadened, especially compared to past standards. League average slash lines in past years from 2017-2021 were .255/.324/.426, .248/.318/.409, .252/.323/.435, .245/.322/.418 and .244/.317/.411. All of these changes from year to year were marginal, even with claims of juicing baseballs. But in 2022, the average slash line is .233/.306/.371. These are the lowest numbers since 1968, which is known as the year of the pitcher. Could it be that pitchers are just getting better and hitters need to catch up? I don't think that's the case. League wide stats on "barrels" from 2017-2021 was a .796 batting average and a 2.726 slugging percentage. The stats on 2022 barrels are .674 batting average and a 2.174 slugging percentage. A 122 point difference in batting average is the difference between Ichiro Suzuki and Tom Glavine's career. The percentage of 95+ pulled fly balls resulting in outs are up nearly 10% from recent years.
The ball is just simply not the same as it has been in the past. That is the only way to describe the big difference in batted ball data. Even pitchers have noticed a difference and are not happy with it. Yimi Garcia, a reliever on the Toronto Blue Jays, was ejected from a game for hitting Josh Donaldson. This is what he had to say about baseballs used this year. "Last Night was one of the worst nights of my playing career regarding baseball. It's embarrassing. The balls that we're using right now, for me, are really bad, they're very slippery. I can't believe it." New York Mets pitcher, Chris Bassitt, said something similar earlier in the year after nearly hitting multiple Cardinals batters, "MLB has a very big problem with the baseballs. They're bad. Everyone in the league knows it. Every pitcher knows it. They're bad." Bassitt later goes on to say that the balls are inconsistent and seem to be different every inning. Pitchers are complaining about the baseballs, hitters aren't getting the same results as they're used to, nobody is happy with the current balls.
This is bigger than just players being unhappy though. Major League Baseball is seen as a dying game by many and is losing fans every year. Higher offense simply brings in more fans and these new baseballs are not helping. Does Rob Manfred not care about growing the game? I can't say for sure, but it definitely seems that way. Higher offensive output will always attract more fans no matter the sport. It's just more entertaining to watch. But MLB seems to be going the opposite way. Hopefully, Rob Manfred and MLB realize their mistakes and will change whatever they have done to baseballs this year.
Resources:
https://www.sportsnet.ca/mlb/article/blue-jays-garcia-denies-he-was-trying-to-hit-donaldson-with-pitch-after-ejection/ 
https://www.si.com/mlb/2022/04/27/chris-bassitt-blasts-mlb-mets-hit-by-pitches-different-baseballs 
https://twitter.com/MLBRandomStats?s=20&t=kXj_akoKwXLFMhzg3T83fA