The Women Who Have Shaped East Rockaway High School: Women's History Month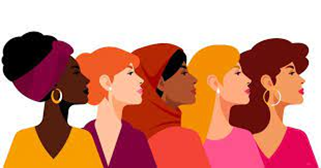 As Women's History Month comes to a close, I wanted to highlight some of the important women who help keep East Rockaway High School running, and inspire young female students in our school each day. 
At sixteen years old, I have been fortunate enough to be surrounded by many empowering and inspirational women. Some of whom I have encountered through my years at East Rockaway High School. Beginning in the 1800s, women began to play central roles in education, as both teachers and learners, across the nation. Since then, they have shaped the teaching profession as a whole. This Women's History Month, I wanted to honor the female figures and educators in our school, and invited them to share their thoughts about their experiences they've had as women in the workforce, and what they want young girls to learn from what they know. 
I got the chance to ask six women, six questions: Ms. Terranova (Assistant Principal), Ms. Forbes (Director of Science and Chemistry teacher), Ms. Isik (English and AVID teacher), Mrs. Parasmo (Global 10 and AP World teacher), Ms. Horvath (Business teacher), and Mrs. Bonacorsi (Director of Guidance). Everyone gave me meaningful answers and I would highlight every single one of them if I could, but for now I want to spotlight some of the ones that stuck out to me the most.
What female in your life inspires you the most?
JI: "Ms. Perrone and Ms. Falvo have always inspired me because they are female teachers who developed a really great curriculum and they taught me how to be a teacher. Everything they did was very lead by example and they shaped who I am as a teacher," 
As a student in East Rockaway, you don't often see the "behind-the-scenes" of what the teachers are learning and doing for their students, and it was really exciting to see how the women of this school work together and help each other to help students thrive. Throughout my discussion with Ms. Isik, she emphasized the importance of colleagues, especially women, helping each other grow in their career and that, even when work seems really hard, "you will get better and things will get easier." 
What inspired you to follow this career path?
JB: "I was actually really interested in the entertainment industry and as a result I got a job on my college campus working in the business department office. Initially I thought I would be a business major so it seemed relevant, but what I was actually doing was helping students. I helped launch and advertise a new curriculum and it turned out there were some students who wouldn't have been able to graduate with the new requirements. One student asked for my help, so I went to the supervisor to advocate for him and she said that was a good catch and brought it to the dean. One day that student stopped by and told me he was graduating because of me. I realized I always helped my friends with college resumes and they would call me the 'Facebook police.' While I was working for Pringles, I wished to help people get into school and write their resumes, and I was bored with my current job. When I spoke to people about this, they told me 'DUHHH, become a school counselor.'"
Through the story of her personal experience, Mrs. Bonacorsi exemplified how you shouldn't be afraid to try new things, whether it's joining a club or doing an internship, to discover what you love or absolutely do not love. When I initially asked her this question, she corrected me when I said "guidance counselor," instead of "school counselor." This interested me because I never knew there was a difference, or a stigma upon the term "guidance counselor." She gave me an explanation and I left there with information I hadn't known before, and was excited because it intertwined with our discussion of women in the workforce.
"The term was coined in the 70s and it was when someone in the school was telling women that they should do more feminine jobs such as teaching and nursing. Now, it's more focused about social/emotional aspects, college, while still helping with careers. Guidance focuses on work only and they work by themselves. School counselors are always collaborating with students, teachers, and parents. A school counselor works with you, doesn't GUIDE you. I don't give advice, I help YOU come up with a solution." (Who knew?)
What makes a great female leader?
TT: "Honestly, I wish this question were 'What qualities make a great leader?' without the 'female.' Equity will only exist when we stop judging people because of their gender identity. Otherwise, strong male leaders are deemed "tough" while female ones are often described with more negative words."
This completely changed my perspective, and her answer was honestly so right. A "female" leader shouldn't be expected to act or be perceived any differently than a male leader. According to dictionary.com, a leader is simply defined as, "A person or thing that leads." Not a man, not a woman, a person or thing. So, thank you Ms. Terranova. Your answer could not have been more perfect, and is inspiring to all girls in and outside of East Rockaway.
How has having children affected your career in the past few years?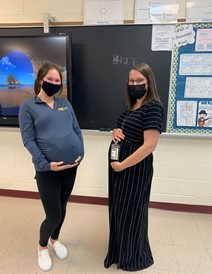 VP: "In the past few years my family has grown to a family of 5. I have 3 young children under 4. Sometimes life can be hectic between work and family life, but I've learned that it's all about balance. I've learned it's important to switch roles and mindsets between teacher and mommy. I hope that I am a role model to my children and can teach them the importance of hard work and dedicating yourself to a career that you care about. One of the things I love about teaching is that you can include your family in events. I look forward to bringing my kids to future events to cheer on East Rockaway students."
Finding balance between a career and becoming a mother and caring for your children takes so much time and patience. Along with Mrs. Parasmo, over eight different teachers in ERHS have had a baby or are expecting in the last year and a half. Watching them come back from maternity leave and pick up right where they left off, teaching classes, offering extra help, advising clubs and classes, and more, is amazing to watch, especially as a young woman. It takes strength and empowerment, which leads me to my next question.
What does the phrase EMPOWERED women, EMPOWER women mean to you?
DF: "No one gets to where they are alone. You of course put in the work. However, I follow a template. If I see something I want I study it I ask the questions and put myself in a position to achieve it. An empowered woman is one who moves boldly. You have to ignore what expectation that others have for you and set goals for yourself that are beyond your wildest dreams. I am an empowered woman because I move in and out of circles where people do not expect to find me. I empower other women because I have no problem pushing a woman ahead. As Serena Williams said, 'We're strongest when we cheer each other on.'"
And that is exactly what we need to do in ERHS: cheer each other on. I think our teachers do a phenomenal job in doing so, but as a whole, all girls and women in this school every month, not just March, need to have each other's backs. You don't have to be outspoken or act a certain way to show your support. You don't need anything but motivation to cheer someone on. You can empower others by empowering yourself first.
What pieces of advice would you give to young women in East Rockaway High School and beyond?
GH: "Don't let anyone tell you you can't do something. You can do anything. You are stronger than you think."
Not only is Ms. Horvath a business teacher in our school, but she is one of the advisors for the Gull this year and has been the backbone of this article as a whole. She takes the time to work with her students, and just as every other teacher in this school, demonstrates that she only wants the best for every student in her classroom.
And I think that's the perfect ending to this article. To the women of East Rockaway and beyond, don't be afraid to do anything. Don't undermine yourself because you are capable of SO much. If you ever feel you need the support of other women, I can name plenty off the top of my head not just from these select women, but many more female figures in our school who will motivate you to be the best you can be.