What About MER Sports?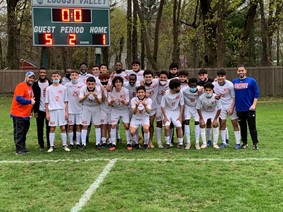 Sports are commonly talked about in our halls. There are a lot of questions like "When's the next game?", "How did you guys do the other day?", and "What's your record?"… but that's only about the school sports that aren't combined with another school.  So why aren't MER (Malverne-East Rockaway) sports talked about? Last year was a record-setting year for boys' MER soccer and lacrosse – so why don't we hear about them?
The MER boys soccer team made history by going to the playoffs, which hasn't happened in about 70 years.  East Rockaway's very own Derek Rivera, Franco Cuttitta, Thomas Guarino, Nicholas Guarino, and Robert Staubitz all contributed to the team's accomplishments. Knowing they were going to have a difficult season, the boys had to rise up for both East Rockaway and Malverne.  They were usually the team looked down upon, but there was a spark with this team.  Starting off the season with a loss didn't hold them back because they knew that one loss didn't determine the rest of the season.  Going to practice everyday and working together led the boys through a great season, with a record that put them in the playoffs, defeating the Locust Valley Falcons. After this win, they had a chance to do more than just make it to the playoffs, and they got to do it on their own turf.  With a game against Cold Spring Harbor, who they had tied with earlier in the season, the team did what they knew they needed to do.  The MER boys beat Cold Spring Harbor in the first round and were now in the semi-finals against Carle Place.  With the game off to a great start, it was going to be a good game.  With an unfortunate penalty awarded to Carle Place, they took the lead in the first half.  With a hard-fought second half, and a really close opportunity for MER to tie the game, they were left defeated when the final whistle blew. The boys were upset knowing it was their game and they should've won. Even though they had a heartbreaking defeat, they were at least able to go home and say that they were a part of a team that made history.
The MER lacrosse boys also had a great season.  Being a team that only made it to the playoffs and never won a playoff game, they too had something different in mind.  With great effort by the team all season, and having a record to bring them yet again to the playoffs, they wanted more and they wouldn't stop until they got what they wanted.  With a better season than others, they knew that they had it in them to not just be another team that made it to the playoffs, but they were going to be a team that continued through the playoffs. On home turf, the boys had a fantastic game, bringing them to victory and making history by being the first boys lacrosse team to win a playoff game. All this came to an end when, just like the MER boys soccer, they had a tough team to beat in the next round, which also unfortunately brought their season to an end. However, being part of that team that made history was a win in itself.