Johnna's Recipe Ideas for the Holidays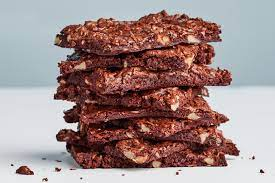 Have you ever felt bored or lost on what to do or bake? I know I spend more time trying to find a recipe then actually baking. To help you out, here are 5 easy baking ideas that are fun and delicious!
1.) Flat & Chewy Brownies
Makes about 30 brownies
½ cup or 1 stick of unsalted butter and a little extra for the pan

1 ¼ cups of sugar 

¾ cup unsweetened cocoa powder

¾ teaspoon of vanilla extract 

¼ teaspoon of salt 

2 cold large eggs 

½ cup of all purpose flour 

1 cup of finely chopped walnuts or chocolate chips (optional)
Preheat oven to 325 degrees and preferably butter a 18 x 13 baking sheet

Melt a 1/2 cup butter then mix sugar, cocoa powder, vanilla, and salt in a medium bowl.
Pour butter over and stir until smooth.
Add eggs one at a time, until batter is thick, shiny, and smooth.
Stir in flour until well incorporated, then beat vigorously for 30–40 strokes.
Stir in nuts or chocolate chips (optional).
Using a spatula, spread batter into a thin, even layer to edges and into corners of prepared sheet (batter will seem scant but brownies will rise to about 1/4″ thick).
Bake for 15-18 minutes, and enjoy!
https://www.epicurious.com/recipes/food/views/sheet-pan-brownie-thins 
2.) Thumbprint Cookies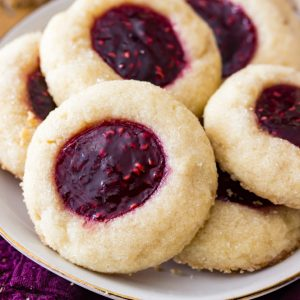 Makes about 24  cookies 
1 cup of unsalted butter, softened 

⅓ cup of sugar 

⅓ cup of light brown sugar, tightly packed 

1 large egg yolk 

¾ teaspoon of vanilla extract 

2 ¼ cup of all purpose flour 

2 teaspoons of cornstarch 

½ teaspoon of salt 

½ cup of sugar for rolling (optional) 

⅓ cup of jam of your choice, preferably raspberry jam is the best
Preheat oven to 375 degrees

Beat the butter until creamy
Add sugar and beat and increase to medium-high until well combined
Add egg yolk and vanilla extract, beat well
In a separate bowl whisk together flour, cornstarch, and salt
On low speed add the flour mixture to the wet ingredients until combined (Dough is going to be dry and crumbly so be sure to pause and scrape the sides)
Scoop cookie dough into 1 tablespoon sized balls and roll very well
Roll the granulated sugar (if you are using) and place on wax paper or on parchment paper on a cookie sheet
Used your thumb to gently press an indent into the center of the cookie dough
Transfer cookie dough into the freezer for 30 minutes
Place your jam in a bowl and mix it for a little so it can get runny and smooth
Scoop the jam and place it in the center of the cookie
Bake for 11 minutes or util golden brown and enjoy!
https://sugarspunrun.com/thumbprint-cookies/#recipe
3.) Banana Bread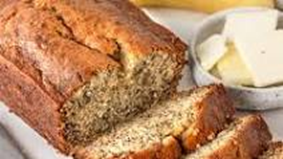 8-10 servings 
2 to 3 medium very ripe bananas, peeled (about 1 1/4 to 1 1/2 cups mashed)

1/3 cup butter unsalted or salted, melted

1/2 teaspoon baking soda

1 pinch salt

3/4 cup sugar (1/2 cup if you would like it less sweet, 1 cup if more sweet)

1 large egg, beaten

1 teaspoon vanilla extract

1 1/2 cups all-purpose flour
Preheat oven to 350 degrees

In a mixing bowl, mash the ripe bananas with a fork until completely smooth.
Then stir the melted butter into the mashed bananas.
Mix in the baking soda and salt.
Stir in the sugar, beaten egg, and vanilla extract. Mix in the flour.
Pour the batter into your prepared loaf pan.
Bake for 50 minutes to 1 hour at or until a toothpick or wooden skewer inserted into the center comes out clean.. If the outside of the loaf is browned but the center is still wet, loosely tent the loaf with foil and continue baking until the loaf is fully baked. Refrigerate for 5 days and enjoy!
https://www.simplyrecipes.com/recipes/banana_bread/
4.) Pumpkin Chocolate Chip Cookies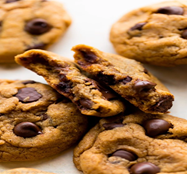 About 18 cookies 
½ cup or a stick of unsalted melted butter 

¼ cup packed light or dark brown sugar 

½ of granulated sugar

1 teaspoon of vanilla extract 

6 tablespoons of pumpkin puree

1 and ½ cups of all-purpose flour 

¼ teaspoon of salt

¼ teaspoon of baking powder 

1 and ½  teaspoons of ground cinnamon 

¾ teaspoon of pumpkin pie spice 

½ of semi sweet chocolate chips and some for the top if wanted
Preheat oven to 350

Whisk the melted butter, brown sugar, and granulated sugar together in a medium bowl until no brown sugar lumps remain.
Whisk in the vanilla and pumpkin puree until smooth, and set aside.
Whisk the flour, salt, baking powder, baking soda, cinnamon, and pumpkin pie spice together in a large bowl.
Pour in the wet ingredients into the dry mixture and mix together till combined. The dough will be very soft.
Fold ½ cup of chocolate chips.
Cover the dough and chill for 30 minutes.
Remove from refrigerator and grab your cookie sheets with parchment or silicone baking mat.
Roll the dough into 1.5 tablespoons and using the back of the spoon slightly flatten the tops.
Bake for 11-12 minutes or until baked. Cool the cookies, the flavor is more potent when cooled. And enjoy!
https://sallysbakingaddiction.com/pumpkin-chocolate-chip-cookies/#tasty-recipes-75896-jump-target 
5.) Vanilla Cupcakes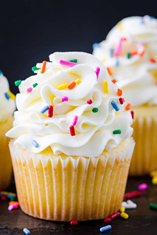 Makes about 12 cupcakes 
1 and ¼ cup of all-purpose flour

1 and ¼ teaspoon of baking powder 

½ teaspoon of salt 

½ cup or one stick of butter melted 

2 large eggs room temperature 

½ cup of buttermilk 

2 teaspoon of vanilla extract 
Preheat the oven to 350 degrees

In a medium bowl combine flor, baking powder and salt. Set aside
In a bowl beat butter and sugar on medium high speed for 5 minutes until thick and fluffy
Add eggs one at a time beating well and add vanilla
Reduce the speed and add the dry mixture in thirds alternating with the buttermilk.
Pour the batter into cupcake pan and bake for 20-30 minutes or until fully baked. Enjoy!
https://natashaskitchen.com/perfect-vanilla-cupcake-recipe/#jump-to-recipe 
Hope you found some new baking recipes you will like to try when you are bored!