The Case of Gabby Petito and Brian Laundrie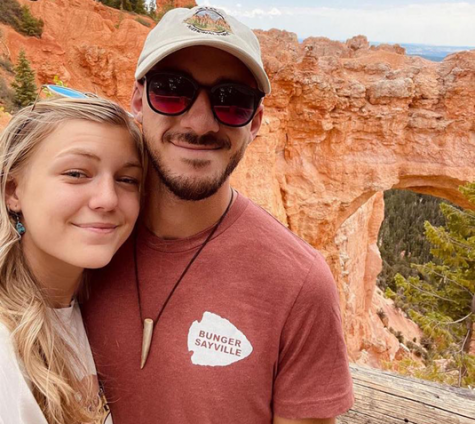 Gabby Petito and Brian Laundrie are a recently engaged couple. Gabby Petito is from Long Island New York and Brian Laundrie is from Florida. They have been traveling all around the world in a white van, which they made into their own home. They were planning on traveling to a national park in Wyoming. So they drove to the national park to do many activities including hiking. Gabby was one of those people who loved to blog and post on Instagram. All of sudden, on September 11th, 2021, she went missing. 
This case has been going on for a long time now. This whole case started when the police pulled them over at least two times when they were driving. There have been multiple interviews with Gabby's parents saying that "they never liked Brain". The family realized something was wrong when Gabby wasn't answering the phone and when Brain fled. Gabby's lifeless body was found on September 19th, 2021. On October 12th, reports stated that Gabby had died from manual strangulation. The FBI has been looking to find Brian but they haven't found him yet.
This case was getting so intense that even Dog the Bounty Hunter got involved. Dog the Bounty Hunter is one of the top bounty hunters ever. There have been videos and images showing the FBI and Dog searching an island where they think Brian might be hiding. At first, Brian's family wanted nothing to do with finding their son. About a week ago, they started helping the FBI attempt to find Brian. I think that was a very smart play by the family, because if they didn't help at all, I would probably suspect the parents are helping Brian. This case is still happening and I think it will be happening for a lot longer. I do believe that Dog the bounty hunter is going to help the FBI since he has so many connections. Some of those connections might have seen or spoken to Brian, or they may know his whereabouts.
This crazy case has me really questioning what actually happened. There is no doubt in my mind that Brian killed Gabby, and many others agree. I think this because since Brian is hiding and not turning himself in, he must be up to no good. The fact that the couple spoke to police multiple times over domestic disputes leads me to believe their personal issues got to Brian. This ongoing case is not over, but hopefully the FBI and Dog the Bounty Hunter will find Brian soon.
UPDATE 10/22/2021
As of Thursday October 21st, Brian Laundrie's remains were found. His body was discovered in Florida's Carlton Reserve. Many are speculating about what actually killed him, but we won't know until an autopsy is completed. I believe he was killed. The reason they couldn't find his body at first is because the area he was in was under water, so they found him once the water came down. The police identified him using his dental records. The FBI has recovered some of his belongings, including a picture from right before Gabby went missing. So far this case has cost around 1.5 million dollars. I don't think they should have extended this case for so long due to the fact that there are many other missing people who have not been found. I really hope this case educates and informs federal agents and police about other missing people in the world.
Sources: