"A Day in NYC: Koreatown"
As a New Yorker, I have grown up traveling into New York City and trying to experience the epicenter of different cultures and ways of life. Prior to the COVID-19 pandemic, my family and I would travel to the city every weekend, looking for places to eat, great views, and new memorable experiences. Even if you think you have been to every corner of NYC, I highly recommend that you make your way down to Koreatown. The shops and restaurants that make up this enclave of the city are located along 32nd street. This is close to places like Bryant Park and Penn Station so you have no reason not to visit. I was inspired to come here because of my cousin's infatuation with Korean culture, the language, and the music. My aunt has started learning Korean so she recommended we go there to experience the food and culture that she fell in love with.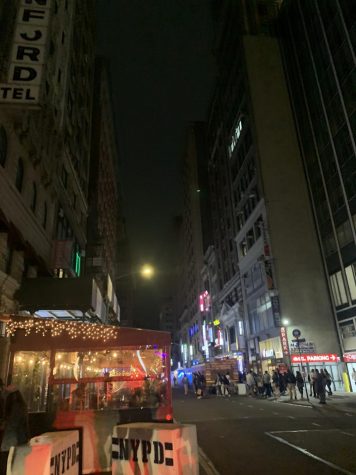 First, we stopped at the first (of many) restaurant on this trip. This was a ramen restaurant called Udon Lab. The atmosphere was amazing and we ate in our own little outdoor seating area. Thanks to COVID, more options for seating have been opened up outside and the tables for the different restaurants along the street were spilling out into the road. We tried the pork gyoza (dumplings) as an appetizer and we topped it off with beef Niku Udon. It was amazing and it definitely prepared our palettes for the multitude of foods we were going to be eating. 
One really important thing that I wanted to note about my trip was the increase in police presence along this street due to the amount of Asian violence that has been going on. There were police officers all over and although I felt safer because they were keeping a close eye on everyone, it really helped me understand the struggle of the Asian community. I can't imagine being persecuted or attacked for being a certain race or looking a certain way. It is interesting to note that across from our first restaurant stop, there was a huge protest against Asian violence that took place a few days after our trip. 
The next restaurant we went to was called Turntable Chicken Jazz. This restaurant was unlike any I've been to before. It was filed with different records on the walls and there was mellow jazz music playing inside while we ate. This was a Korean inspired restaurant that included one of the popular street dishes, cheese corn. My sister and my mom loved this dish when they tried it but I stuck to my fried dumplings and soy garlic boneless chicken wings. The wings were crispy and very crunchy and they had the best hint of Asian flavor incorporated in them. Overall, this was another great place to stop and it was perfect for a quick lemonade drink and appetizers.
Next on our tour of Koreatown, we stopped at a Korean beauty market. Korean beauty products have become very popular in America and there is a reason why. The skincare products that I bought were really helpful! We went to Kosette Beauty Market (this place was also attached to a bookstore) and I was able to buy five different Dr. Jart tiger grass calming face masks. I also got some spot treatment gel that has worked wonders for my skin already. This was an aspect of Koreatown that I loved and it was something that I had no idea existed. So, if you are looking for skincare or makeup products at affordable prices, I highly recommend that you check out some of the Korean beauty markets scattered around 32nd street.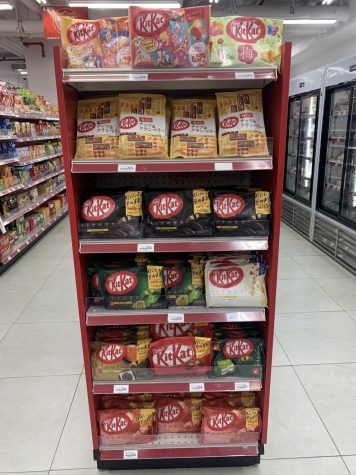 Now, my favorite spot that we visited was the TESO Life Market. This was a huge Korean "grocery store" that had any product that you could ever need. There were assortments of candy, makeup, dog toys, ramen, and perfume, and that was just in one of the aisles! We stayed in this store for about an hour and every time I looked down the aisle, I found a new and exciting product. What I was really excited about was the variety of Kit-Kat bars. There was matcha, orange, strawberry, green tea, and ruby chocolate and I was absolutely blown away. I had never seen so many variations of this treat in my life. There was also a large assortment of pocky flavors (a chocolate dipped biscuit stick) and my family loved the almond crush variation. This is a reminder to try new flavors of your favorite snacks, who knows, you might be very surprised by how yummy they are.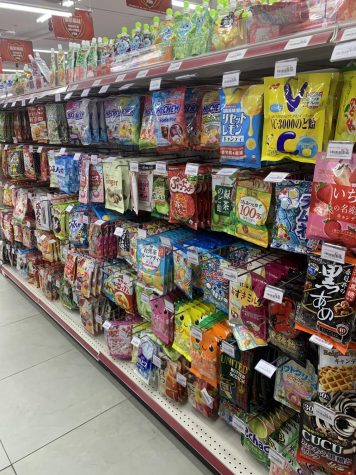 For our final course, my family went to miss KOREA BBQ for Korean Barbeque, which is considered to be a specialty. We went up two flights of stairs to get to our table and it had its own personal grill on the side. One of the waitresses spent her time cooking the meat in front of us and it was the perfect way to close the evening. I tried the pork belly and the clear noodles and they were so delicious. My family members tried the Bulgogi, delicious marinated slices of beef that were grilled on the table top griddle. I really felt so immersed in the Korean culture and I truly wish more people came to enjoy this slice of New York City. Not only is the food great, the dessert was great too. It turns out that in Korea, many people enjoy French pastries and desserts. So, as a final stop, we made our way to Tous Les Jours and got rose flavored macarons. I know what you're thinking, what would rose macarons even taste like, and to be honest, I was wondering the same thing when I ordered them. When I bit into them, they were refreshing and they tasted like roses (as crazy as that sounds). Some of my family members also indulged in one of the local shop's shaved ice, which is a delicious Korean dessert.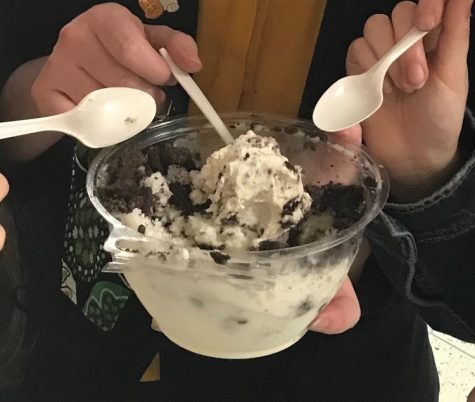 I really can't do any of this food justice with words, so I highly recommend that you take a trip to Koreatown. There is lots of culture that you don't have to take a plane to Korea to experience. For Long Islanders, it's really just a hop, skip, and a jump away! While you're there I am sure that you will find a new respect for other ways of life and appreciation for a different culture. 
Let me know if you have any recommendations for restaurants or spots in NYC that you would like me to review. I am always in the city and I would like to sample new places and share my experiences with you guys!