"The Top Ten TikTok Trends of 2020"
As the year comes to a close, let's reflect on the trends that kept us sane during the craziest of times.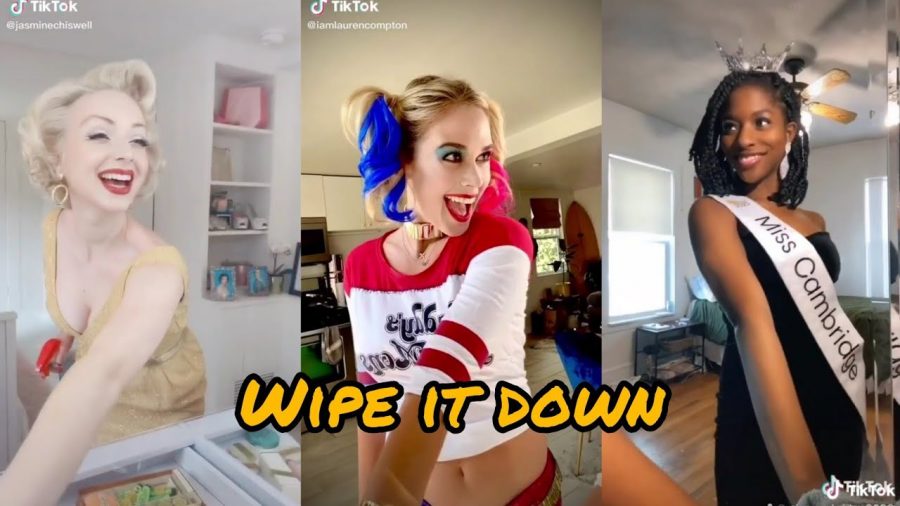 After the year of sickness, sadness, and loneliness that 2020 had us facing, there was one thing that we all could turn to for a laugh, a smile, or even just inspiration: TikTok. TikTok has provided us with an escape from reality, a form of therapy for some, and created platforms for people all over the world, allowing their dreams to come true. From opening the year with Renegade, to closing it out with Body by Megan Thee Stallion, the worldwide TikTok trends that kept us on our toes connected us while the world was falling apart. Although all the trends were unique and exciting in their own way, we have selected just ten that truly took over TikTok this year. We will remember these trends forever, and we are excited to see the new ones that come along in 2021. 
#10: Recreating old pictures
Oh, April, when lockdown first started and nobody had anything to do besides look at old pictures. So why not recreate them? Many people started to recreate old pictures on TikTok and compare the picture to the recreation. They also used the song "I'm Just A Kid" by Simple Plan to construct the video. Creators would pose to replicate the original picture and when the beat dropped to the song, you would show the original picture.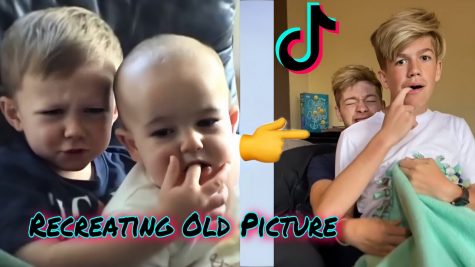 #9: Bulletproof-La Roux
"This time baby, I'll beeee bulletttttproof" replayed in everyone's heads for the last few weeks of the summer. Used in a sarcastic and satirical way, creators reflected on a time something really terrible was happening in their life along to this song, but now they can look back and laugh at it. Writing the words, "You think you can hurt me, ______" brought amusement to many viewers shocked that someone experienced what they did. Personally, I would scroll through these videos for hours, laughing harder at each one because of how crazy it was. (Note: Some may not be appropriate for young viewers)
#8: Rating Friends and Family Throughout the Day
Coming in at number 8, this trend was one of my favorites. Creators would film short clips of their friends or family throughout the day and rate them out of ten at the time and a reason why they received that rating. Families were driving each other insane already many months into quarantine, and users truly captured what was taking place in their homes and sharing it for the world to see. The popular sound for this trend was a combination of the transition sounds from Disney Channel's hit show Hannah Montana. (Still can't get it out of my head) 
#7: Thanksgiving Table Tea
Everyone knows Thanksgiving as the holiday where families see each other for the first time in months, catch up, and get to know each other better. For some, too much is revealed or brought up at the dinner table. The "when someone mentions ______" trend on TikTok this past Thanksgiving captured just that. Creators recorded their families members getting up and angrily leaving the table after someone mentions something that may embarrass them, or tick them off. To the song "Whatcha Say" by Jason Derulo, TikTok creators were able to spread some humor and joy during a holiday that looked very different this year. 
#6: Family Pretends To Be Me
This trend had me laughing so hard in my bed at 2AM. For this trend, creators would film their parents or siblings imitating them. Many of these videos consisted of parents being lazy (laying in bed, sitting in the dark, etc) and yelling that they're going to Dunkin' or Starbucks. I know plenty of people who did this trend and it was hilarious. 
#5: Our Preferences
What better way to get to know people than to know their preferences. This trend was all about choosing "this or that". Creators could do this by themselves or with friends. Basically, creators would give themselves two different options and they chose which they preferred by pointing to the one they like better. Most TikTok trends are associated with a sound or song, and the song that was "paired" with this trend was "It's Tricky" by Run-DMC.
#4: Body Positivity
Body Positivity! Body Positivity is so important in today's world where young girls and boys of all ages struggle with insecurities as they compare themselves to social media influencers and models, and forget how truly beautiful they are. Body by Meg Thee Stallion began trending just this month and is allowing people of all shapes and sizes to express themselves and be confident in their own skin. This catchy song is not only stuck in your head but when it is, the connection made to TikTok will remind you just how important and beautiful you are no matter what anyone else says. 
#3: Wipe, Wipe, Wipe it Down
By May, we were all bored out of our minds. Obviously, we ultimately turned to TikTok to provide us with entertainment. And it for sure did! During this time, the #wipeitdownchallenge was going viral! Creators would stand in front of the mirror and spray it, but as they wiped it, it would be a different person in the mirror, or them in a different outfit. Many celebrities took part in this challenge including Youtuber Colleen Ballinger, or as most people know her, Miranda Sings. It was so cool to watch how millions of people edited their videos to get the perfect shot and share it to their platform. 
#2: Powerpoint Night
Oh, Powerpoint night. One of my favorite trends because, well, I hosted one myself. The whole idea of this trend is to get a bunch of friends together and make random PowerPoint presentations. Some people present their own slideshow and some people had their friends swap and present somebody else's slideshow without them knowing what it was. The presentations could revolve around anything from a TV show rating, to predicting your friends' futures, and all of them were absolutely hilarious. Overall, this was a really funny trend and I would recommend trying this with your friends. 
#1: It's the ____ for me.
"It's the quarantine-hair for me!" "It's the constant binge-watching for me!" "It's the wearing your mask wrong for me!"
Unless you spent 2020 under a rock, there's no way you haven't heard someone say this. Originally from TikTok, as a way people joked around with their friends, this line has become planted into many young people's vocabulary. Although it first started in July, videos continue to be posted today of people laughing and making jokes with their friends. That is why we have declared this as the #1 TikTok trend of 2020. The new expression that evolved just from one video, will now be used forever by Gen-Z and any person on TikTok in 2020. 
We can't just leave this list without making some honorable mentions. Here are some trends that didn't make our list, but we still love them. While not being our top choices, these trends kept us entertained and allowed us to try new things in the early months of quarantine. 
Bop Or Flop
The point of Bop Or Flop was to rank songs or discover old music from the 2000's or 2010's. Basically, creators would make a mix of songs, and when each song played the creators would rank them as a good song (bop) or a not-so-good song (flop). I even made a few of these videos with my cousins. It was so exciting to listen to some of the songs we grew up listening to and completely forgot about. 
Baking Bread
Many people started baking bread during quarantine and we're still not totally sure why. But everybody was doing it, so we had to include it here. Many creators would show how to bake great from scratch and even get creative with it too. By that I mean they baked sourdough and "cloud bread", which many people aren't sure of what it is. Anyway, baking bread was an essential part of the 2020 lockdown. 
Whipped Coffee
Every teenage girl, ever, could not handle the loss of their daily Starbucks drinks when the world shut down. As the idea of "whipped coffee" began to appear on everyone's FYP (for you page; if you don't know what that means, are you really a true TikToker?) how could we not try it? Even as a non-coffee drinker, I thought it looked delicious. Composed of sugar, instant coffee, and milk, the whipped coffee trend of 2020 officially changed the coffee-standard, if that's a thing, forever. 
As sophomores in high school who had been separated from their friends, their sports, and any sort of extracurricular that we participated in, the quarantine called for an immediate sense of boredom. Although it sounds exaggerated, TikTok saved millions of young people worldwide by giving them advice and a good laugh, during the hardest of times. As we push 2020 aside and enter 2021 with new hopes and dreams, we will never forget the platforms and the trends that made up our year.
About the Writers
Kirsten Carman, Editor in Chief
Meet Kirsten Carman. She is a sophomore at East Rockaway Junior-Senior High School. Having lived in East Rockaway all of her life, she likes to bring awareness...