"How to Live the Hygge Lifestyle"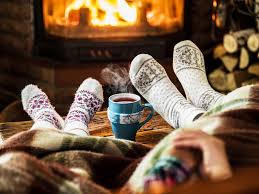 I think it's fair to say that 2020 has been a stressful year for all of us and I think that we should begin doing anything we can to improve our mental health while going into 2021. I started doing some research on how to de-stress and take my mind off of all of the hardships that this year has brought. In my quest for comfort, I was introduced to hygge – the Danish art of relaxing and feeling content. According to dictionary.com, hygge can be defined as, "the feeling of coziness and contentment evoked by simple comforts, as being wrapped in a blanket, having good conversations, enjoying food". There are a few ways that you can live the hygge (pronounced hue-gah) lifestyle and I'm going to break it down for you. 
One way for you to achieve hygge is to make your home as cozy as possible. This could be as simple as surrounding yourself with fuzzy blankets and comfy pillows. It's also helpful to add candles to your room or your home that have scents that make you feel relaxed and at-ease. Some of my favorite scents for relaxation include lavender and orange. Another way to improve your home is to add plants and succulents. Plants can make your home feel earthy and greenery can bring new life to your living space. I also suggest wearing cozy socks (this is one of my favorite things to do during the winter) and this is very do-able for students when learning from home!

Another way to make your life less stressful is to do fun activities with your family and friends. Relaxing on the weekends with your loved ones, playing board games, and watching movies can be a great way to take your mind off of the things that stress you out. Surrounding yourself with some of your friends can be difficult right now, so I recommend Facetiming them or setting up a Zoom call. 

Another way to get in the hygge state of mind is to work on time management and to make sure that you are taking time for yourself every day to relax. This could mean taking time after school to watch an episode of a show that makes you feel happy or taking time before bed to read. Anything that you can do to make time for yourself so that you can de-stress is helpful to get into the hygge lifestyle. 
I think introducing hygge into our lives is a great way to be happier, more self-aware, and more positive. Things might be difficult in the world these days, but if we cure our stress at home, we can bring a relaxed attitude with us into our daily lives. I look forward to making my house and my room more comfortable with what I've learned and I hope that you do the same!