"A Different Kind of Thanksgiving"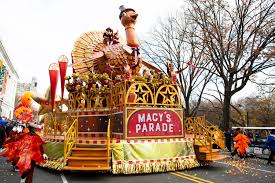 It goes without saying that a true Thanksgiving celebration isn't complete without turkey, football, and the annual Macy's Thanksgiving Day Parade. I used to run from my room on Thanksgiving morning downstairs to see the Santa Claus balloon and the rockets on my TV. There are balloons, floats, performers, newscasters like Al Roker bundled up in his winter coat, and much more to make the day exciting and memorable. 
But the parade also has much more significance to it than some might realize. As for its history, the Macy's Thanksgiving Parade started in 1924 and is the second-oldest Thanksgiving parade in the country (tied with a parade in Detroit). Felix the Cat was the first large balloon in the parade. It has only been canceled 3 times within the 96 years since it started (all during WWII due to helium shortages).
When watching from home, Americans see the parade as an opportunity to spend time with friends and family snuggled up on a couch and drinking hot chocolate. I personally have never seen the Macy's Thanksgiving Day Parade live in person, but around 3.5 million people every year go to New York City to watch the event. They watch huge balloons get blown up and stand on the streets of Manhattan to watch the floats, dancers, marching bands, and singers go by. You can see and feel the joy of the holidays coming from everyone and spirits are high.
But this year is different. Many are struggling now more than ever to buy food, support their families, and provide presents for others for the December holidays. We may not be able to gather together with family members as we used to, as New York recently put a mandate in place that gatherings in homes must be for no more than ten people. It is a stressful time for a lot of people. 
And yet, this parade brings joy to everyone and makes everyone's lives a little better. It's a tradition. Thankfully, the parade has not been canceled this year.  However, pretty much like everything in 2020, things will be a bit different. 
One major change this year is that the enormous balloons will not be held by trained balloon handlers; instead, they will be connected to vehicles. Another major change occurring thanks to Covid-19 is that no one is allowed to see the parade live in person. The city does not want large crowds of people gathering and potentially spreading the disease. Instead, it will still be streamed, and some of it will be pre-recorded for everyone to see on television and online from the comfort of their homes. There will also be staggered call times for performers, social distancing on site, masks and wellness checks, with the production following Centers for Disease Control and Prevention guidelines.
While it may not be the parade we are used to, we will have to tune in from home and make the most of it. The changes may be disappointing for some, but it's important to celebrate and be thankful for the things we do have. Be sure to tune in to the parade next Thursday; it will be an event you won't want to miss!
About the Writer
Sarah O'Moore, Staff Writer
Meet Sarah O'Moore. She is a freshman that has lived in this town all her life and joined The Gull this year. She joined because she loves writing and...