"Starbucks Needs to Expand the Holiday Menu"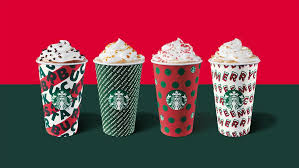 Starbucks is iconic for many reasons. Many celebrate it for the quality of coffee and superior taste to that of Dunkin. Every year, Starbucks provides the joy of releasing the pumpkin spice latte, ushering in the fall season and their specialty Halloween menu. Last year, they also released the pumpkin cream cold brew, a drink that went viral over social media and had the drive-thru lines wrapped around multiple blocks. For Christmas, many annual holiday favorites are released including the peppermint mocha, the chestnut praline latte, the eggnog latte, and the toasted white hot chocolate. People line up at the doors on November 1st to get their first taste of the holidays in the classic red cups.
Christmas is a time where you can feel loved and comforted. Many people's lives get enhanced when they do things "christmasy." You feel a sense of joy and like the holiday spirit is here to stay. However, for a lot of people who don't celebrate Christmas, the lack of other celebratory drinks may make them feel left out. In my opinion, Starbucks should release drinks that are associated with other holidays besides Christmas. This means the holiday menu would be expanded to suit more people and provide the same joy as people get when they get those celebrated Christmas drinks. The reasoning behind this is directly because Starbucks has a substantial part in culture. According to thebusinessinsider.com, the average Starbucks receives 500 customers a day. You have to wonder how many of those people feel grinchy when they walk in to see red and green everywhere, but their own holidays left in the cold. Why not create a drink to celebrate Hanukkah, Diwali, Kwanzaa? Why not create a Festivus drink to warm you up before airing out your grievances?
So in conclusion, Starbucks needs to expand its holiday menu. This change will be substantial. Considering the crazy variety of ingredients that Starbucks has, they can definitely pull off a drink that is different from your basic coffee and can have elements of creativity.