Unmasking Some Fun: "The Masked Singer"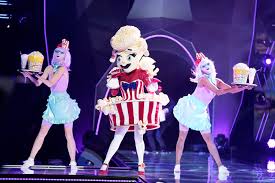 I think I speak for everyone when I say that 2020 has given us so much. Although to be honest, "given" is probably too nice of a word. But one of the greatest gifts this year has presented is The Masked Singer, the reality show sweeping this quarantined nation. Everybody wants to know who is under the mask. 
If you haven't watched the show, the premise is pretty simple: a bunch of celebrities dress in crazy costumes, like a lion, a mushroom, a moose, a black widow, and so many more. They all perform on stage for the panel of judges and the live studio audience. At the end of the show, the panel and the audience vote on their favorite performer, and the performer with the least number of votes has to take their mask off and reveal their identity. Any celebrity can be on the show; there have been football players, singers, actors, models, and TV personalities. 
The panel of celebrities guessing "who sung it" is probably the funniest panel of judges I've ever seen on a competition show. The panel consists of Robin Thicke, a singer and songwriter (his famous song "Blurred Lines" has appeared on the show); Jenny McCarthy Walberg, the master of clues, (when there is a clue, she always finds it and gets down to the meaning of it); Doctor Ken Jeong, who is the funniest of all judges (he used to be a doctor but retired to perform comedy); and finally, Nicole Scherzinger. She is a singer/songwriter and is the detective of the group. She is great at determining who's voice is under the mask. There have also been guest judges on the show such as Joel McHale and Kenan Thompson. 
Season 4 of this show was delayed because of COVID, but when it aired, fans of the show went wild. Fans, especially myself, were craving the mystery and suspense that the show brings to its viewers. I love trying to figure out who is under the mask. Social Media has gone crazy this season because the competition is fierce. TikToker Louis Levanti says, "I am losing my mind over group C this season." 
To sum up this season (SPOILER ALERT), in group A we had the Sun, Giraffe, Popcorn, Dragon, and the first-ever 2 person costume, Snow Owls. In episode 1, we quickly found out that the Dragon was not a crowd favorite. He was voted off, but the panel had some guesses as to who this mysterious singer was. Ms.Nicole Scherzinger and Robin Thicke thought it might be Busta Rhymes, a rap/hip hop singer. Jenny McCarthy Walberg's guess was NFL running back for the Detroit Lions Adrian Peterson. And finally, Dr.Ken Jeong was confident with his guess of NFL superstar Marshawn Lynch. The reveal was shocking as it was indeed Busta Rhymes. In episode 3, when Group A returned once again, Giraffe was unmasked. I thought for sure that this singer was a Hamilton star from the way he performed to the clue package, that said it all. This amazing performer turned out to be Brian Austin Green; actor, producer, and 90s icon. If you thought these were shockers wait for group B.
In Group B we had, in my opinion, even better performances than in group A. Group B consisted of Crocodile, Whatchmacallit, Gremlin, Baby Alien (the first costume with a moving mouth), Seahorse, and Serpent. Unmasked in this group unfortunately were Gremlin and Baby Alien. Gremlin had a very unusual unmasking. By this, I mean that when his performance was over, he decided to take off his mask without being voted off the show. When the mask was removed we saw the one and only Mickey Rourke. Mickey Rourke is a renowned actor who has been nominated for an Oscar many times. And Baby Alien was actually NFL superstar Mark Sanchez. This shocked the panelists the most so far. 
Finally, let's take a look at Group C. This was highly anticipated after 4 weeks of switching off from Group A and Group B, we finally got to see Group C. This was a very eccentric group of performers. This featured Broccoli, Jellyfish, Squiggly Monster, Lips, and Mushroom. Last week, Lips was unmasked as TV personality Wendy Williams. Two of the panelists came up with this guess, and the others were shocked by her unmasking. Last week the Squiggly Monster actually turned out to be everybody's favorite TV dad, Bob Sagot, Full House star and comedian. If you have watched the show this season, you know that Jellyfish and Mushroom are going to have to go head to head to stay in the competition. 
I know that I'm highly anticipating next week's episode, and I hope that if you have been watching the show, or plan on watching, that you are ready for this week. I sure am and social media has been awaiting this and the possibilities are endless for who could be under the mask.