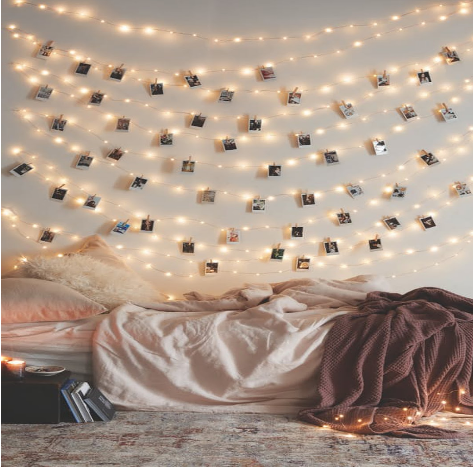 Hang on for a minute...we're trying to find some more stories you might like.
Have a drab, plain room? Want to have a colorful and aesthetically pleasing living space? Well this is the article to read! You will learn what looks you want to use for your bedroom!
Paint your walls! Giving your walls a nice color is a great use of them. You can paint them any color you want! If you want to brighten up the room, paint the walls a pastel color. You could also paint a white or even a lighter color. Even if you can't paint your wall, you can put stickers on your wall of shapes to make it appear to be painted in those spots.
Buy new enhancements and furniture. Purchasing new things for your room make it look fresher! Matching your walls with the right bed set will make your room look well put together. Getting a rug for your floor is also a homey touch. Lighter color rugs are harder to keep clean but they make a room pop.  Curtains give a classy, softer look to a space. You don't have to buy new things, you can touch up items you already have. Want to change the color of an old desk? Paint it whatever color you want. You can also replace the handles on the drawers. Have old curtains? Wash them to bring the life back into them. All you need is a fresher look; you don't need to spend any money. You can also get a full body mirror and make a little vanity.
Organize! Putting your things in order and placement makes your room look so neat. Having a bin for your dirty clothes is a must. Also a bin for all of your shoes can keep them from getting lost. Having a clean work space or desk can actually make you more productive. Making your bed and placing a throw blanket over your sheets gives a extra touch. Shelves are great to store and reveal your favorite belongings such as trophies, paintings, or little figurines!
Add decorations. Putting little decorations in your room can make a blank spot look filled.  An example of this can be putting plants into your room. A little cactus by your desk is a very dainty add on. Putting a candle into your room can give a more relaxed feel to it. Lavender and eucalyptus scented things tend to be more relaxing. When you light a candle, it gives the room a certain lighting that is very calming. Putting a poster on your wall can give your room a fuller look. A nice painting or drawing is also very creative. A poster can be of a quote, animal, or even your favorite band! Taping or framing a nice picture or polaroid of you, your friends, or your family is a fantastic way of making you smile while walking into your room. Also hanging a tapestry and fairy lights can make your room look magical!
Your bedroom is suppose to be a safe place for you to be in. It is a place to relax and to show off who you are. With these tips, your room can make you in a better mood. But always remember, whatever you do, make sure it fits your personality!