Spirit Week in East Rockaway High School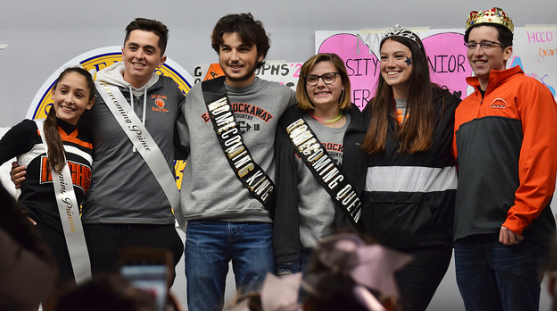 Hang on for a minute...we're trying to find some more stories you might like.
Spirit week is a week of fun and interaction with your peers. It leads up to the homecoming football game at the end of the week. The week is a time for students to show their school spirit and get ready for the big game.  Each day is a different theme.
Spirit Week started off with "Merica Monday". Students decked out in the American flag colors, red white and blue! Others also wore necklaces and face tattoos. Tuesday was "Tumble out of bed Tuesday."  Students wore their pjs to school and spent their classes cozy and comfortable. Wednesday was "Wacky Tacky Wednesday."  Students wore crazy outfits, bright colors, and goofy hairdos! Thursday was "TV Thursday." Kids dressed up as their favorite TV characters. On Friday it was pep rally so the attire was our school colors, black and orange, Go Rocks! On Saturday was the homecoming game and many kids came wearing their homecoming shirts.  
The whole week was marvelous and many students made the week enjoyable and creative with their unique looks. This week really brought out the spirit we have in our school and made school a little more amusing at the same time. We'll just have to wait until next year to do it all again!