The Emergence of Luke Voit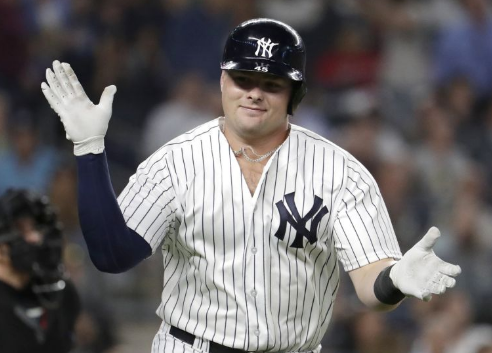 Hang on for a minute...we're trying to find some more stories you might like.
Luke Voit has just turned heads in the baseball community with his stellar performance. On a special night in Baltimore, he went 3 for 5, with 2 Home Runs, 4 RBIs, and 9 Total Bases. Many thought this was just a lucky night, but it was far from it. For the last 2 games of this series, he went for a combined 4 for 6, with 1 Home Run, 2 RBIs, and 7 Total Bases. This was a need for the Yankees, who haven't had a great First Baseman since Mark Teixeira.
The starter before Voit, Greg Bird, was utterly horrible, and did not live up to expectations this year. These were only some of the driving factors that moved Greg Bird to the bench position and Luke Voit to the starting job. This has made many fans ask the same question, "Where exactly did Luke Voit come from?" Well, Luke Voit was originally a St. Louis Cardinal, up until the 2018 Trade Deadline, when he was traded along with International Bonus Pool Money for relievers Chasen Shreve and Giovanny Gallegos. This trade was originally done to get something back for Chasen Shreve, who had been the lowest on the depth chart and had to be traded or DFA'd, moved to the minor leagues, and off the major league expanded roster. This trade was thought of as a one-way trade and a player dump. But it all changed once he started one day so that Greg Bird could rest. Luke Voit started an extended hot streak that would move him past Greg Bird on the depth chart and secure a postseason roster spot.