Being Acknowledged in the Art Industry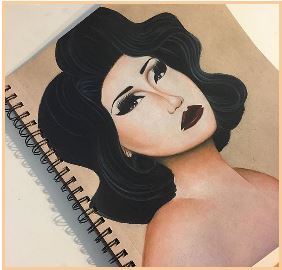 Hang on for a minute...we're trying to find some more stories you might like.
As an artist on social media, there are many times when I get feedback for my pieces. Of course, I appreciate every positive comment, but receiving acknowledgement from another incredible artist or the person I dedicated the drawing to is almost a surreal feeling. Referring back to the time I drew Soju, a Chicago-based drag queen, and getting a response back from her requesting to have the piece framed was an amazing moment. For those who don't know, "drag" is a term for a person who dresses and acts like somebody of the opposite sex in an over exaggerated manner. I messaged Soju through social media and asked for her address; she actually responded and within the next two weeks, my framed drawing was sent to her PO box in Chicago.
Social media is a great way to share your work and make your name known to the public. A lot of people are able sell their work and make a profit online; small businesses are made just from having a significant following on social media.
If you're an aspiring artist, I encourage you to consider sharing your art to the public! It's like an online portfolio that gives you leverage on commissions and requests. It's a wonderful opportunity to improve and meet other artists as well!